Frequently Asked Questions
If you need any help, please feel free to browse through our FAQ page for anything that concerns you. If your questions are not displayed down below please feel free to call us at +61 7 5491 7500 or email us at booking@kingsway.net.au which ever your preference is, so that we may solve whatever your concerns are.
How do I get there by car from the Brisbane Airport?
Simple, if you have a GPS in your car – enter 8 Dingle Avenue, Kings Beach.
If not, follow the signs to the Sunshine Coast on the Bruce Highway, taking exit 188 Caloundra. Remain on the Caloundra road, going through 3 roundabouts. At the 4th roundabout, take the second exit toward Caloundra. Continue to the end of this road, and through the roundabouts past all the shops. Go straight through the roundabout with the Universal Gym on your left. Go one block further and take the 3rd exit on the roundabout. You will be facing the ocean and Kings Way Apartments runs the entire block on your left hand side. You will see the driveway to the visitors car park on your left.
Are you able to arrange Airport Transfers?
Yes, we are happy to book  transfers to or from the airport for you. Please ask when making your booking or when you have booked your flights, as we will need the flight details to book for you. Preferably, we need a minimum of two days notice to book the transfers for you.
How far away is Public Transport?
Public buses run regularly from the transit centre or main street – all within walking distance of the complex. If you wish to book a taxi, we are happy to call one for you – just call down to the office.  If you are going on a day tour, many tour operators provide a free bus transfer to and from the complex.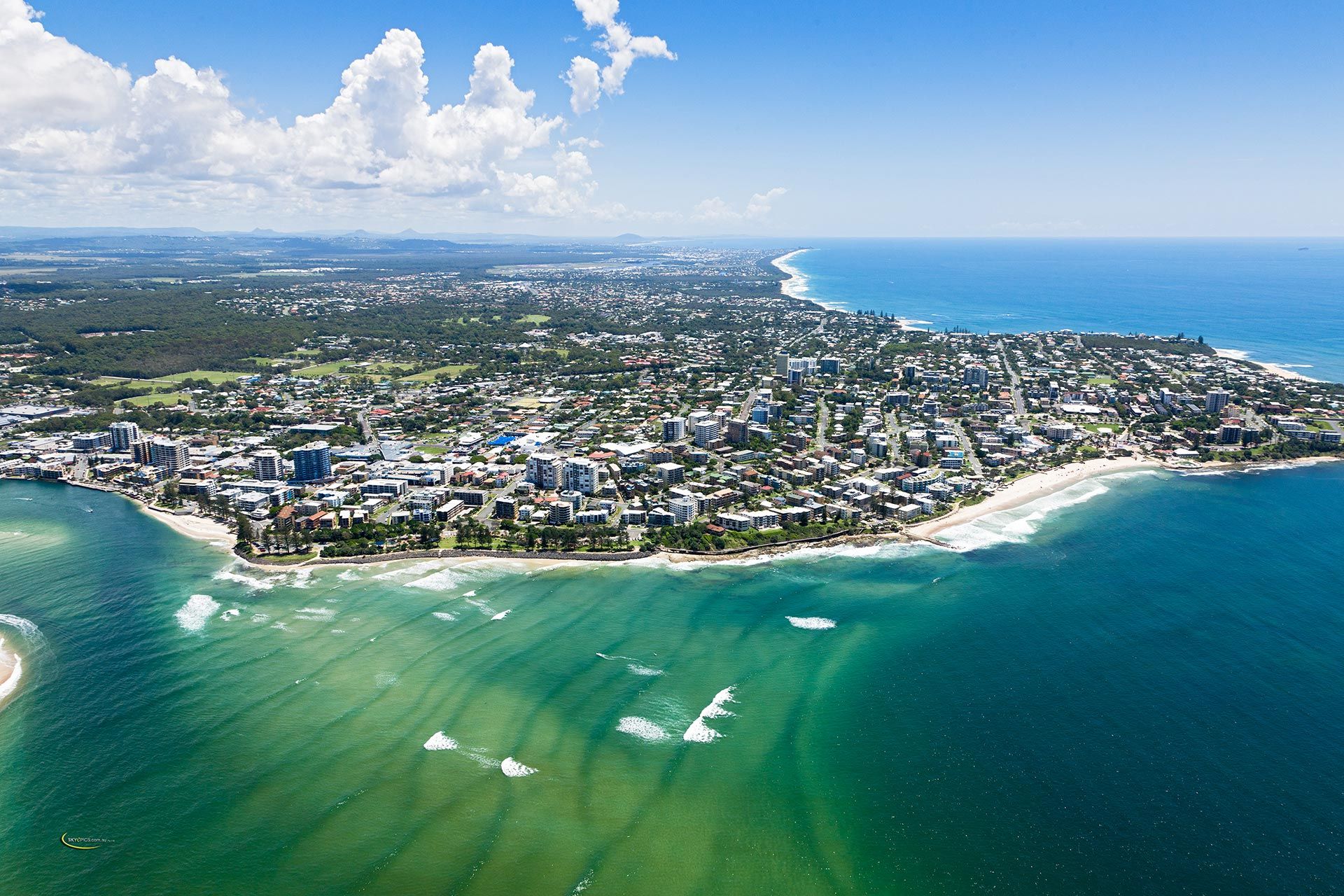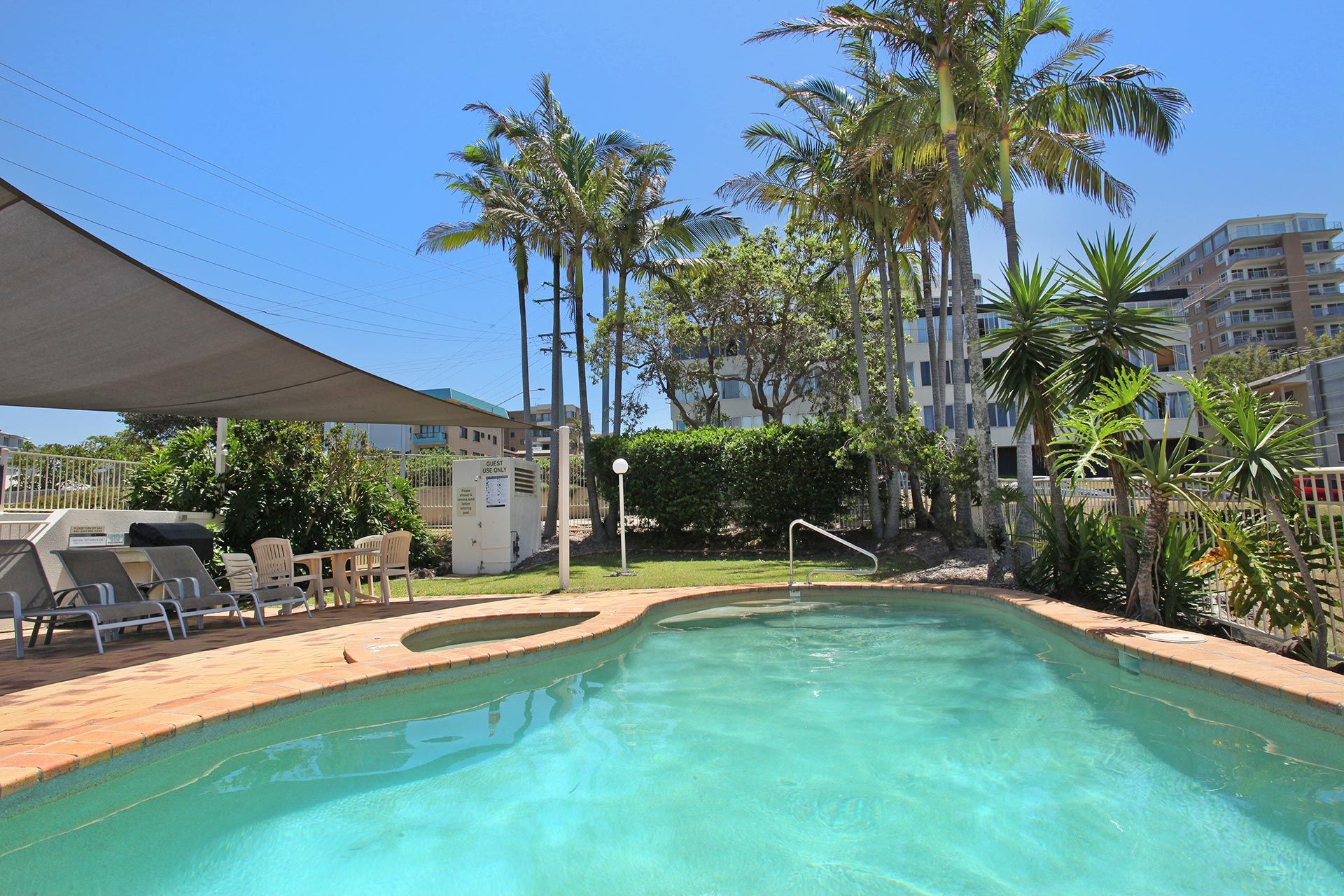 Is there parking available?
Yes, all our apartments have nominated secure undercover parking off the main street underneath the complex. There is one car park allocated per apartment and plenty of street parking for additional vehicles.
Is there a TV & Foxtel?
All apartments have a television and DVD player and there are 7 Foxtel channels available at no extra charge. Foxsport 1, Nickelodeon, SkyNews, Animal Planet and 3 Movie Channels, Premiere, Action and Masterpiece.
Is Kings Way Apartments suitable for families?
Yes, all our apartments are suitable for families with 2 bedrooms and sleeping for 4 guests. A fold away bed can be provided for a 5th guest for an additional charge.
How many floors are there at Kings Way Apartments?
There are three levels at Kings Way Apartments – however each apartment is situated half a floor apart – so no two apartments are directly next to each other, providing privacy for all guests.
Is there Free WiFi?
Free WiFi is available in one of our units, please let us know when booking if you need it and we will do our best to get you into that unit.  Also, free WiFi is provided by the Sunshine Coast Regional Council,  and is available along the main street of Caloundra and along Kings Beach.  The library is also only a short walk away and has WiFi and computers.
Is there a Swimming Pool?
Yes, we have a swimming pool which is heated all year round to a lovely 30 degrees.
Is Baby Equipment Available?
We can arrange for the hire of all baby equipment including strollers and high chairs, boosters etc. Also available for hire are beach items, body boards, umbrellas, chairs and similar.
Are Pets Allowed?
Sadly we don't allow pets at the Kings Way Apartments.
When is Reception Open?
There are no set reception hours, the office is mostly open between 9.00am and 2.00pm during the week and 8.30 – 12.00pm at weekends. We are always available by phone on (07) 5491 7500 Monday to Sunday.
When is Check-in and Check-Out?
Check in is 2.00pm, however we are happy to arrange an earlier check-in for you if it is possible, just let us know if you would like us to, and we will advise you of availability. Check-out is at 10.00am. Late Check-out may be arranged but is subject to availability.
What if I am Arriving Later?
We do ask all guests to confirm their expected arrival time with us a day or two prior to check in, so that we can make sure everything is ready for them. If you are arriving late, we will provide you with a code for the key safe to access your keys, so there is no stress about your arrival time.
Can I hire Beach Towels?
Yes, we are happy to provide guests with a beach towel upon request for a small fee.
Are Beach Towels Included?
No, beach towels are not included, however, we are happy to provide beach towels for use during your stay for a small fee.
Do I need to bring linen?
All linen is included in the tariff, except for beach towels.
Is an Early Check-In available?
Yes, Kings Way Apartments offer early check ins to all of our guests, if available on prior arrangement with the Managers.
Is smoking Permitted?
Smoking is permitted on the balcony of your apartment only and we ask that guests who smoke, dispose of their butts and rubbish with consideration for other guests. Please ensure that all doors into the apartment are closed whilst smoking on the balcony.
A minimum $200 cleaning fee will apply should you be found to have been smoking in your apartment.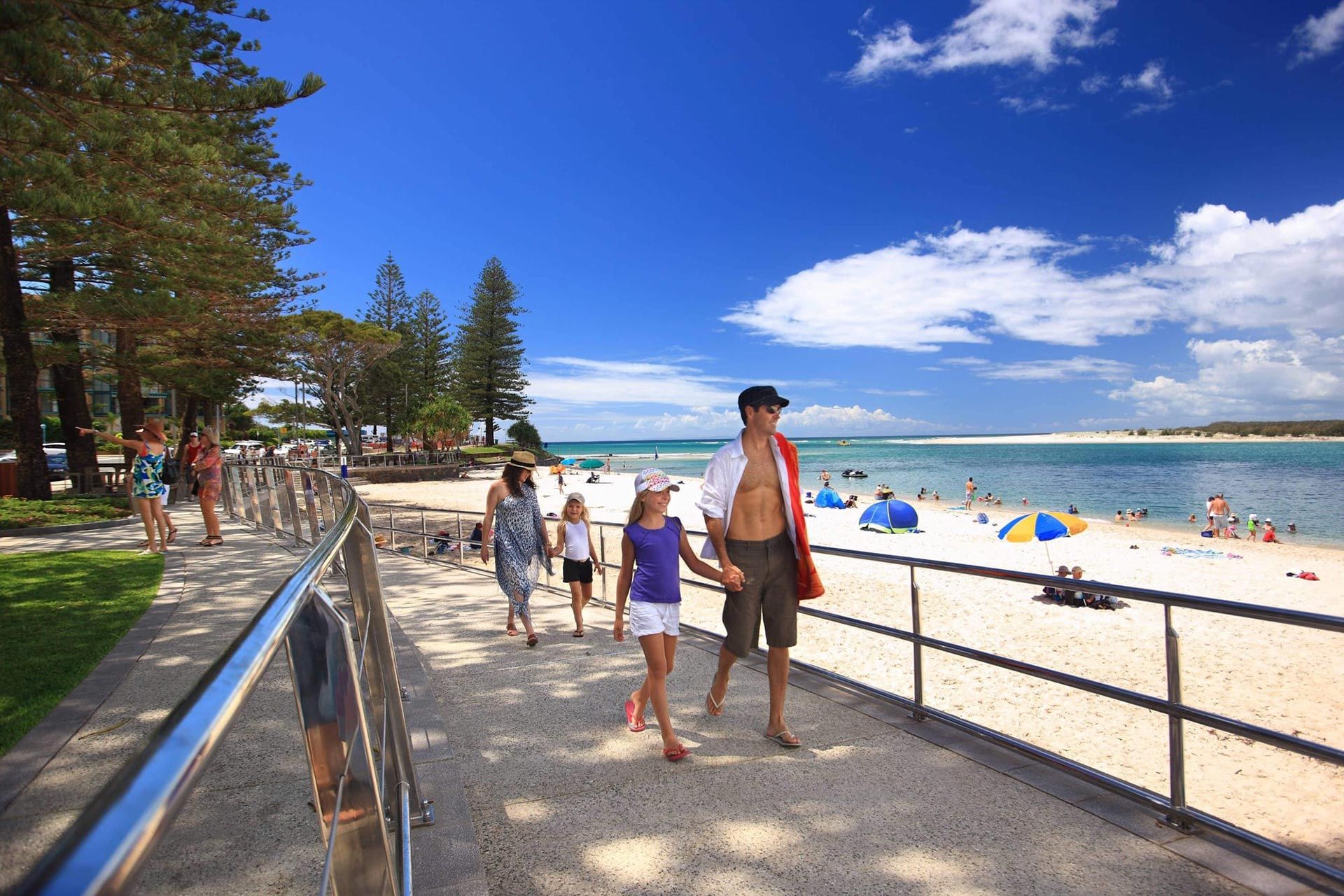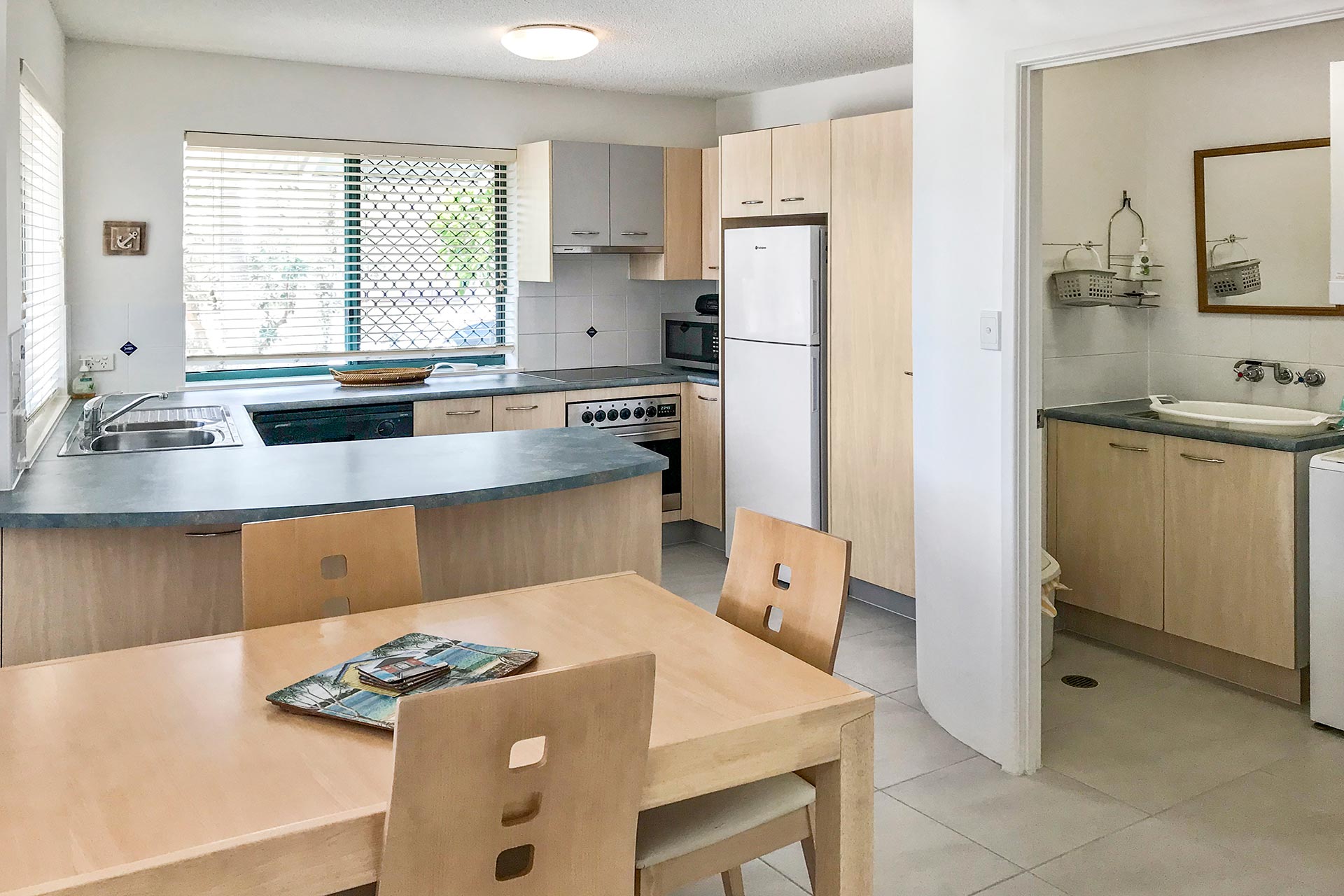 Do you have an apartment suitable for the disabled?
Regrettably, as Kings Way Apartments is a three story walk up, there are no apartments without stairs for access.
Does every Apartment have a Balcony?
All the apartments at Kings Way Apartments have two balconies.
Does every Apartment have a Good View?
All apartments have ocean views from the balcony. The ocean view apartments are ocean facing and have views from the living/dining/kitchen and main bedroom areas too. Every apartment has a view but due to the positioning, some have a better ocean view than others.
Please ask when booking if you would like to request an Ocean View Apartment.
Are the Apartments Air-Conditioned?
All the apartments apart from one are air conditioned and have fans. The one unit without, has modern ceiling fans.
How often are the Apartments Serviced?
The apartments are self contained holiday apartments and we do not service the rooms or change linen daily for a standard booking. If you are staying 7 nights or longer you will be provided with clean linen every 7 days. However, if you would like a service during your stay, please contact us at the office as we are happy to provide this for an extra charge.
What exactly does your Kitchen Consist of?
Full sized fridge with freezer, microwave, dishwasher, cutlery, utensils, plates, bowls, glasses, pots, pans toaster and kettle.
What are your room configurations?
All apartments have a Queen size bed in the main bedroom with ensuite and 2 single beds in the second bedroom with separate bathroom and toilet.
How big are your Apartments?
All of the apartments at Kings Way are very spacious, and even the smallest apartment is suitable for families.
Do you have Hairdryers?
Yes. Hair dryers are available on request at the office.
What Shops are Nearby?
As the main street is just a block away, you will find banks, café's restaurants and many boutique shops there. Coles and Woolworth  are located at the bottom of the main street, a short drive,  whilst IGA is located in a small shopping square an easy walk from the apartments. At the shopping square there is an IGA supermarket, a bottle-shop, post office, bakery, fresh vegetable store, hairdresser, newsagent, chemist and kitchen shop.